Alan has recently acquired a
Golden Retriever
named QQ.
QQ kind of looks like this for his colouration. But QQ has nicer fur - longer and straighter.
We visited QQ on Saturday after Jennifer's wedding.
He's such a very handsome and obedient boy!! He's got an excellent temperament and is very "teachable". And he has got such soft, warm fur. Which is great because he also has a habit of curling up on your feet. It is like having your own private pile carpet.
Then, on Sunday, went to pick up a yao lan stand for the princess. The lady who gave it to us has got *gasp* THREE
Shih Tzus
!
They are so gorgeous!! Oh my goodness! Literally balls of fur, because she kept them in show coats (read: Sweep-the-floor lengths) Their hair is double the length of mine, and oh-so-oh-so fine and silky smooth. Damn, I should use dog conditioner on my hair next time. Maybe I should have asked what supplements she feeds the dogs to make their fur grow so quickly. Then I should go eat that too.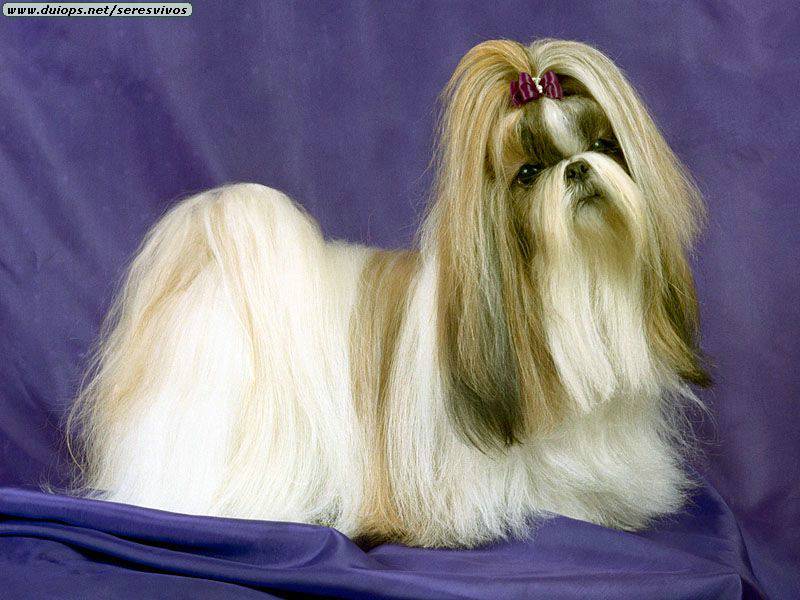 Shih Tzu in full coat - they looked exactly like this!
Because the fur is so long it covers their legs, the dogs seem to "slide" over the floor rather than walk. Can't see the movement of the legs cos the fur coat is so thick. So they shuffled here and there in the house, looking for all the world like mobile rugs. The biggest one was a whopping 10.5kg! Wow! The size of a 1 year old baby!
Of course, not to forget my own darling
Scampy
. Managed to go back and see him in the midst of the weekend. As usual, he was kind of slow because of age. And my mum forbade me from petting him because she said she has not bathed him for a few days due to the rainy weather. Haiz. I managed to sneak in a few pets when she was not looking but couldn't pick him up and give him a full fledged cuddle. Boo..
Though it will probably give G, my parents and parents-in-law a fit, I really wish I could have a dog and a daughter together too..
Awww...